s
s
s
Impressions and Feedback of the Summer Academy "Business Moderation" 2017
The BusinessMind Summer Academy took place the past two weeks again. Just like the previous year, there was a lot to sweat, to learn and to moderate during the 2-day training courses at the Albert Schweitzer House in Vienna. And it was a lot of fun!
Thursday and Friday (July 6/7th) started (in German) with the training "Workshop-Moderation" followed by the training for large-group-moderators-to-be on Monday and Tuesday (July 10/11th) with a total of 24 dedicated and enthusiastic participants.
Methods tried and true classics from Issue Cards with Topic List,  Headstand, Dreams & Nightmares, Mindmapping, via Brainwalk and World Café through to Fish-Bowl and Socio-Metry / Constellation,  there was clearly a suitable workshop method for everyone. In addition to this, however, we also tried something new as you can see on the photos:
Impressions of the "Workshop-Moderation" Training  on July 6/7th in Vienna, Austria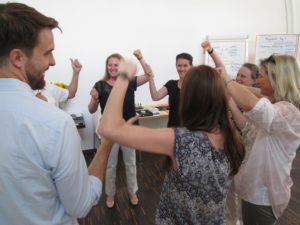 Impressions of the "Moderation of Large Groups" Training  at July 10/11th 2017 in Vienna, Austria
The learnings from this Business Moderation Training can be used in multiple ways, e.g. for designing more structured and more efficient Workshops instead of timewaster meetings, more defined objectives, or to think of a useful mindset! Besides, you learn the important difference between a trainer and a moderator.
Read some feedback according to the two BusinessMind Summer Academy training Courses on Business Moderation:
"That was awesome, Birgit! As a department manager, I know how it is to sit through long and wordy moderation seminars and coaching workshops. But if you're looking for a playful and practice-oriented course with moderation methods suitable for any need, Birgit Baumann is the woman to go to. I was very impressed by her performance! After only 2 days of practicing efficient planning for the optimisation of team processes I was able to implement suitable tools already. What's more, I had the opportunity to try out different practices right at the Training course to minimize frictional losses within the team. So, if you want to try out moderations of planning meetings, kick-offs and brainstorming in small groups, can only benefit from Birgit Baumann's many years of experience. Besides that you can take advantage of many tips by the sympathetic and sensitive expert in a pleasant atmosphere. My tip: Sign up, take some time, try it out, reflect and implement. This is truly brilliant – thank you, Birgit Baumann!"

Participated in the Training "Workshop-Moderation"
The "Train the Trainer" seminar was my first seminar with Birgit Baumann and I was inspired.

Especially remarkably was that the need to use my cell phone did not exist at all. The entire seminar was so exciting and active that I ignored my phone even during the lunchbreak. During another seminar this time on the subject "Moderation" the same phenomenon occurred. In my opinion this is clearly related to the trainer's performance. Birgit was prepared very well for the seminar and every participant, contents were explained understandably, the golden thread was recognisable. I have acquired new knowledge and have gained new experience. The handouts (book) were well processed and they are useful. There was enough space for own experiences, exercises and to apply elements from previous seminars. Especially within the moderation seminar I got the chance to take the role of a trainer to experience the elements of the "Train the Trainer" seminar first hand.

Many thanks for these experiences and the outstanding performance of Birgit Baumann.

Participated in the Training "Workshop-Moderation"
"To me, it was a very special training. Instead of the usual communication of knowledge by the trainer, you are invited to actually DO what you are taught. By this, a framework is created, in which we could learn from each other and exchange experiences. Birgit Baumann was accompanying us with questions and input from the sideline. I think it was a very nice way to get started!"

Participated in the Training "Moderating in Large Groups"
"A perfect training for all those who want to make workshops, project meetings or conferences more productive. The practice-oriented training with many illustrative examples and important methods was tested and reflected by the participants themselves during the course of the two days. The trainer was extremely helpful, had a lot of tips and tricks and lead the entire seminar with a lot of commitment, enthusiasm and an incredible wealth of knowledge. The course was perfect all around, and everyone dealing with (large) group moderations can only benefit from that experience! :-)"

Participated in the Training "Moderating in Large Groups" and won the BusinessMind Summer Raffle
Gerhard Auer, WWF Austria,




Head of Media Communications and Campaigns,




Media Officer

"If you just finished your training regarding large group moderation and you immediately feel the urge to implement everything you have learned in your own business, then the training has worked. This is also the case when learning with Birgit Baumann, because the trainers learn to become highly professional on a strongly motivating and playfully level for demanding moderations."

Participated in the "Moderating in Large Groups"
Many thanks for all the feedback, I was really excited about it! I was also very pleased the way things worked out; due to the group's commitment and their high learning level they made great progress during the Training courses. But what makes me the happiest after the Seminar is to see how my participants are able to put what they have learned successfully into action. They could feel immediately: Hey, this really also works in the real world! Thank you all so much for this great experience!
The dates for the BusinessMind Summer Academy 2018 are also set for July 5/6th and 9/10th – you can mark them and receive some more information in case you are interested to participate: birgit.baumann@businessmind.at
Last but not least there will be a summer break and the announcement of the "German" BusinessMind Raffle's winners! The correct answer was 2005 – the year I founded BusinessMind – read more here!
From all the people who gave the right answer I drew the following winners: 3 of them have been at the Summer Academy Training:
Training "Workshop Moderation" (July 6/7th): Julia Schmidmayer, AIT Austrian Institute of Technology GmbH
Training "Großgruppenmoderation" (July 10/11th): Tanja Tötzer, AIT Austrian Institute of Technology GmbH (s.o) and Gunter Stocker, Snizek + Partner
The moderation coaching was used by Brigitte Raschka-Seidl, Erste Group Bank AG  and an issue of my book "Blühende Workshops und Trainings mit Erfolgsgarantie"  and the English version "Blossoming Workshops and Seminars Guaranteed to Succeed" went to Christa Edlmayr, queraum. kultur- und sozialforschung
And the winners of the English version of my book "Blossoming Workshops and Seminars Guaranteed to Succeed" of the "English Summer Lottery" are:
Kalypso Sepou, Research Promotion Foundation, Cyprus
Edita Bagdonaite, Agency for Science, Innovation and Technology, Lithuania
Sofia Azevedo, Agência Nacional de Inovação, Portugal
Congratulations to all winners and thank you very much for all the submissions!!
At this point, I have nothing else to say but to wish you a wonderful, relaxing summer! I hope you will have a lot of enjoyment taking refreshing baths in cool mountain lakes, go on boat trips, have barbecue with friends, eat some delicious strawberry ice cream and enjoy the sun while laughing together!
See you next time in autumn!
Yours, Birgit
Merken
Merken
Merken
Merken
Merken
Merken
Merken
Merken