How I supported the Mobility Transformation 2030 process or "Shoal Competence in the Goldfish Bowl"
Testimonial from Henriette Spyra, Head of Section "Mobility Transformation and Decarbonisation"
"How we could get a mobility transformation to become a sustainable mobility system for the future is something that preoccupies us daily. One thing is sure: without a constant dialogue among all important stakeholders in all of Austria, it's definitely not going to happen! That's why, in 2018, we launched a stakeholder process "Mobility Transformation 2030" and asked Birgit Bauman and B.A.U.M. Consult to design and implement it. One kick-off Future Search Conference, nine federal provincial conferences, four expert workshops and one closing conference later, I'm happy that we enlisted the professional support of BusinessMind and B.A.U.M. Consult for this complex project. What impressed me was Birgit's absolutely perfect preparation and moderation of the individual events, which was absolutely necessary for this project. From the chocolate on the seats to the flowers on the table through to a good material and method mix and the sincerely friendly interaction with organisers and participants, Birgit ensured that the process proceeded professionally from beginning to end. We're not finished with the mobility transformation by a long shot, but in my opinion with this process we have laid the cornerstone for trust-based collaboration with many partners in the coming years."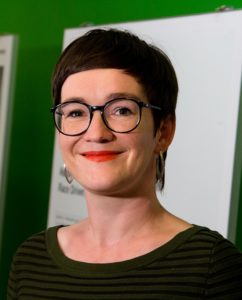 You may remember my blog article from last March in which I told you about the Future Conference on Mobility Transformation 2030. This Future Search Conference fired off a long, very exciting and inspiring facilitation, which I conducted together with Michael Wedler from B.A.U.M.
The aim was to get the relevant stakeholders involved (our part), and to relate the results  (Michael's part) with the so-called Assessment Report (project leader: Günther Lichtblau from the Federal Environmental Agency), to deliver the scientific basis for possible implementation measures.
The entire process included the following steps: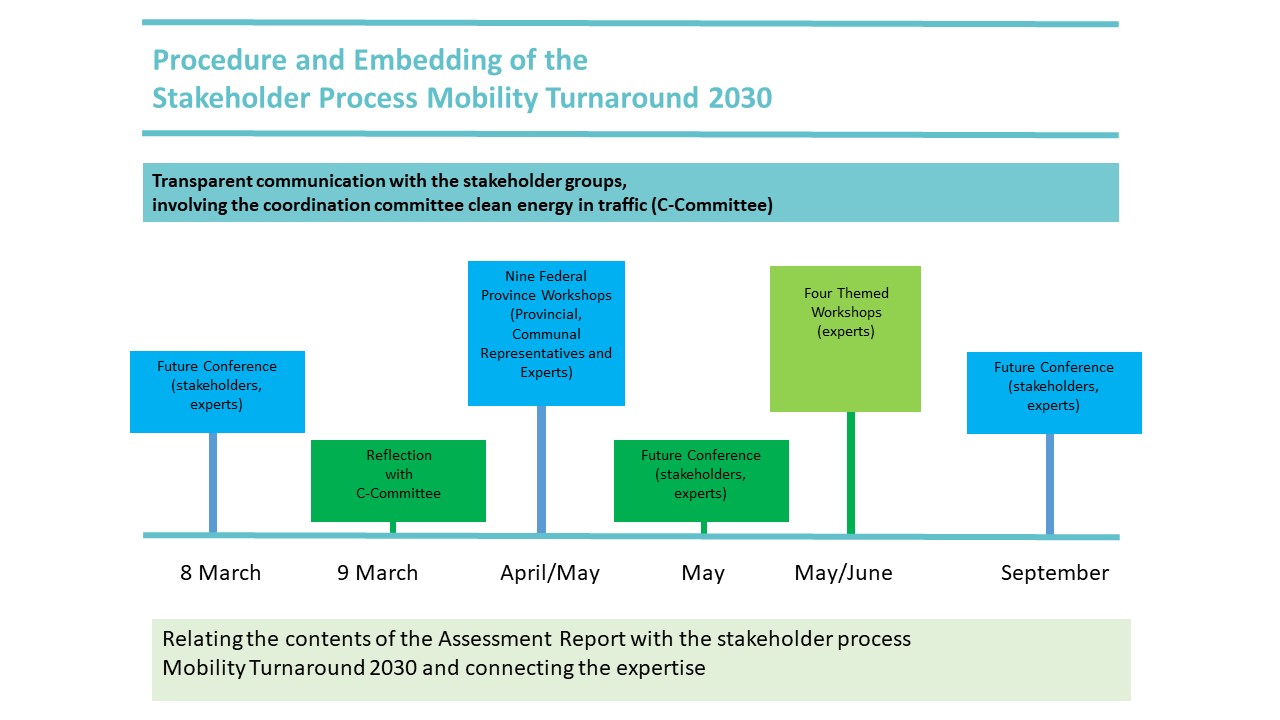 Future Conference on 8 March
Interactive Stakeholder Workshops in all 9 Austrian Federal Provinces in April/May (moderated by me)
4 thematic workshops in May (moderated by Michael Wedler)
2 Workshops of the so-called Coordination Committee
Closing Conference on 24 September
I have to admit: I underestimated how much energy was required for the 9 Federal Province Workshops. Even though it was the same workshop design for all, it still meant: 9x gearing myself up to groups of between 15 and 45 people, in different locations, with different equipment, a lot of organisational issues to discuss and sometimes very long train trips – and that in a very short timeframe.
But it paid off in the end, as there are now many good results contributed to by many people, and the specific challenges of each Federal Province are now evident, and the coming action plan will hopefully stand on solid ground. Because: without the cooperation of all the stakeholders, the mobility transformation cannot succeed. That's as clear as day.
By the way, you can read the Summary of the results on the following bmvit pages (in German):
Wien, Niederösterreich,  Steiermark, Burgenland
And you will find the results of the themed workshops, moderated by my valued companion  Michael Wedler, here (in German).
This process peaked on 24 September in a preliminary climax: the Closing Conference on the Mobility Transformation 2030 , attended by high-ranking political representatives from politics and stakeholder organisations in the Riverbox in Vienna, 2.
The goals for Part 1 of this afternoon event were commitment, spirit of optimism, and responsibility partnership, with an exciting panel discussion in the form of a fishbowl with politically high-ranking participants. Part 2 focused on "Info Win", namely the presentation on the rather extensive "Assessment Report."
Trout au bleu. Or: We let a fish of prey get away.
The Mobility Transformation 2030 is about many important agendas, which need – among other things – one main thing for implementation: Vision.
That's why, when choosing the event locations, I purposely opted for lofty heights with impressive views (the Sky Lounge at the Austrian Chamber of Commerce for the Future Conference and now the Riverbox, a modern, all-glass function room on the 10th floor of a building right beside the Danube River.
I also incorporated this into my introduction.
Afterwards I immediately addressed the "unusual setting" because there was a huge Fish-Bowl with room for up to 12 "fish" in the inner circle.
I recommend always addressing potential doubts and liabilities right from the start, as I presume you already know. This time, however, a double "Omega Transformation" was required, namely because I had left out the empty chair for the question-askers, which is normally part of a Fish Bowl. What's more, there are usually 5 – 6 people in the inner circle. In this case that meant taking away the fear of the Fish Bowl itself first of all, and then calming down some Fish Bowl experts who may have been thinking "something is wrong here..!"
The high-ranking political representatives from the two ministries, almost all Federal Provinces, cities and community association had been "warned" in advance, also with respect to the setting and the tight schedule, and personally briefed by me again before we started.
In the introduction I also mentioned that such a circle almost always represents "togetherness." And that, in order to implement the mobility transformation, all would have to swim in the same direction – a responsibility partnership.
Here I can only recommend using the possibilities offered to you to create positive images in the heads of your participants!
Sticking to a tight schedule
Basically, the Fish Bowl was about providing a space for the statements of all 11 "fish." I could have done this with a classic panel discussion too, but as you can well imagine, this wouldn't have worked so well with 11 people in one panel.
What's more, there was also the togetherness aspect to be considered, which the Fish Bowl admirably underscored. After all, this and the unusual setting really does something to the participants.
The extremely tight schedule was really a challenge, though. It meant that speakers only had 2 minutes to talk (only ministers and general secretaries were allowed 4 minutes to chat at the beginning, to establish the framework).
At this point I entrusted my little helpers Nicole and Sabine with the honorable task of holding up little yellow and orange cards that would easily be seen by myself and the speakers. Yellow signified that there was still some time left, and orange that time was about to run out. And it worked wonders!
Strict time management may often be unpleasant to enforce and also requires the right frame, but it is also often unavoidable if you want and have to stay on schedule (it's part of the moderator's role, after all).
Stand at ease, dear 90-page presentation
And … well, if you've got to include a 90-page presentation, and you don't want it to go on forever, what do you do?
Our solution: split into 2 presenters, with interview question examples, and involve the audience occasionally using a Sli.do (or Mentimeter) questionnaire here and there.
In this specific case, it looked like this: my partner in crime Michael Wedler from B.A.U.M supported the presenter Günther Lichtblau (Federal Environmental Agency, head of the department of mobility and noise, and project leader of the Assessment report) with his presentation of the so-called Assessment Report by taking over the part of presenting the public survey that was conducted. I, on the other hand, again and again posed a question to phase in new presentation blocks.
And tech wizard Nicole launched questionnaires using Sli.do at appropriate moments in which the audience could easily participate by entering a pre-defined event code. (I will be coming back to the topic of digital media in one of the coming blog articles.)
And presto! A long presentation becomes easier to digest.
Tips. Tips. Tips.
In closing, a few useful tips on issues that keep cropping up even after many years of experience:
Check hand microphones not once but three times. Have them show you how to turn them on and off, check the battery power and don't let the technician leave your side for the duration of the event!
I always preach this, but still: be well-prepared, set up an exact time plan, and then … stay flexible. If your client suddenly says "We have to fit all these questions in, too", then fit them in. And leave out the planned feedback round instead. Say goodbye to a perfect schedule. Go with the flow.
So – feel like trying some of these things out for yourself? Or have you already tried out something similar? Then tell us about it!
Sunny autumn greetings, Birgit and Nicole
PS: I would like to take this opportunity to say a big THANK YOU to my wonderful moderator colleague Betty Kerschbaumer-Schramek, who sometimes acted as my sparring partner to help me with the design!