Virtually Moderating International Project Meetings – Tips, Tricks and Tools
By now, virtual moderation is nothing special anymore.
Even if you haven't actually moderated online yourself, you've probably taken part in loads of virtual, internal meetings. Or a conference. Or a workshop. Or a virtual EU project meeting.
It's these transnational – and usually intercultural – project meetings that pose a great challenge to the project coordinators and managers, especially if the project team is meeting for the first time.
Masters of Multitasking
Normally, you & your team have to …
Set up the technology.
Apply external tools for online collaboration.
Maintain continuity, structure and keep an eye on the time.
Address teambuilding.
AND (by the way … :-)): as the project coordinator/manager you usually also play an essential role with regard to the content.
Summa summarum: This can mean a whole lot of different tasks.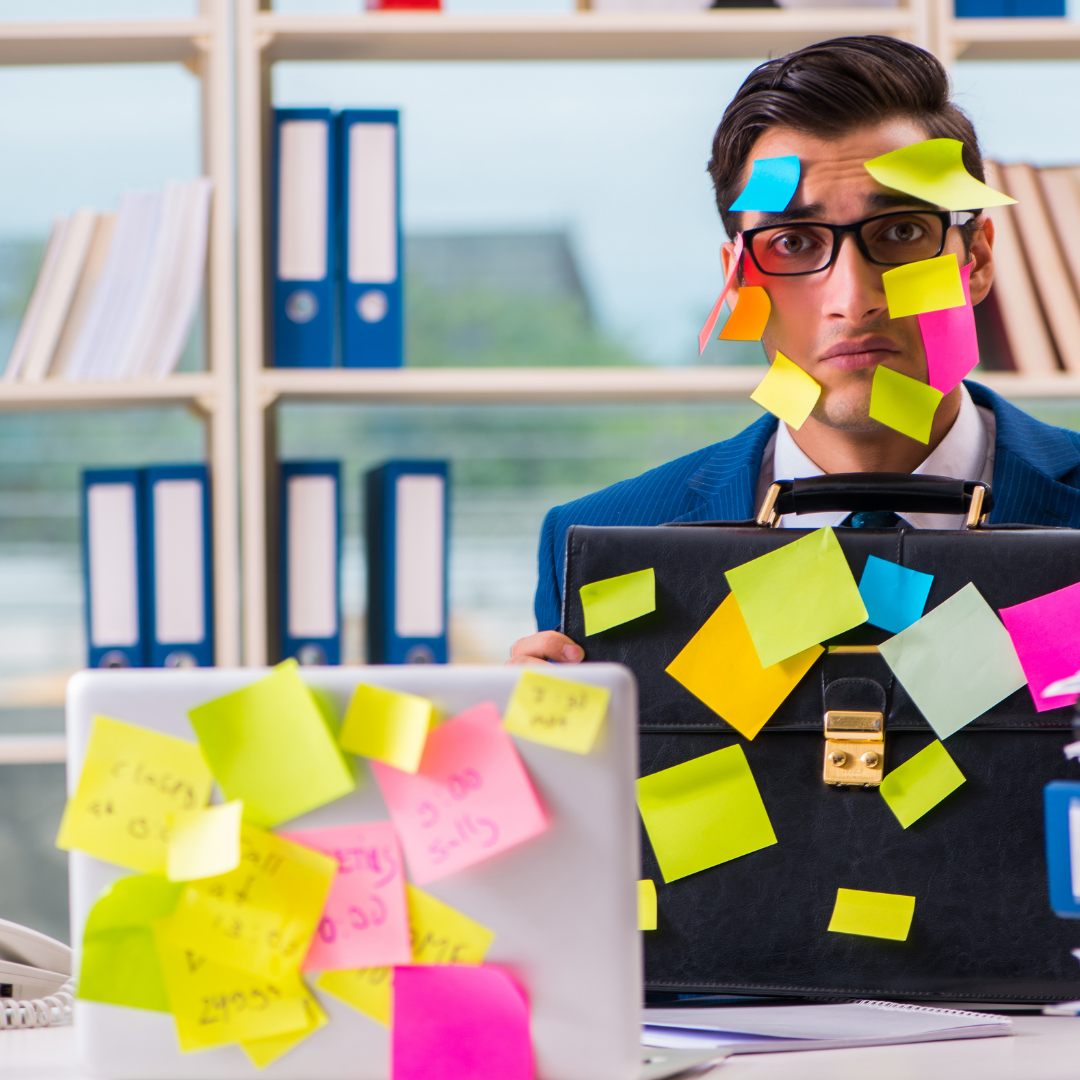 Tips, Tricks & Tools
In the following you'll find some helpful tips & tricks as well as tools with which we work when we moderate virtual project meetings.
Good preparation is everything. Set clear goals and non-goals for your online project meeting and communicate these to your participants, too. What results should be achieved at the end of the day?
Who are your participants, anyway? Do they already know each other (well)? If not, plan to spend some time on teambuilding. You'll find some ideas on virtual teambuilding in a previous blog article.
Create a detailed session plan (e.g. with sessionlab.com). Careful planning means you can act flexibly if the case may be. Split up the responsibilities in the team – one of you takes care of the technology & tools, the other does the moderating.
Hold a general rehearsal. The more complex the meeting, the more important it is to run and think through the individual blocks beforehand.
Work in small groups and send your participants to Break Out Rooms. This way, you stimulate interaction and give even the quieter participants a chance to speak, as ice is broken more easily in small group settings. If your video conference tool doesn't provide break out rooms, you can work with Workarounds, e.g. telephone calls in twos or set up own meeting links for the small groups.
Helpful tools for virtual project meetings
If you want to work something out together and achieve good results at the same time, our experience has shown that you'll need additional virtual collaboration tools. These are ten a penny in the meantime and many of them are really easy to use.
First of all, think about your requirements and choose your tools accordingly. You won't always need highly complext tools such as miro.
For less complex activities, e.g. collecting results from group work, we recommend padlet.com.
If you want to illustrate / discuss more complex contents, e.g. in the form of a brainwalk or a virtual World Café, why not try miro.com? You'll find short how-to guides on both of these tools on our BusinessMind Youtube channel.
For simple interaction in between, your video conference tool offers functions such as chat, surveys and whiteboard (if available). The headstand method, for example, works well via chat. Just pose a provocative question, e.g. "What can we do to ensure that we DO NOT achieve goal XY?" Based on the input you then work on a strategy on how to avoid this scenario.
On top of that, we also like mentimeter.com. This tool is not only good for surveys, it can also be used for brainstorming or reflection.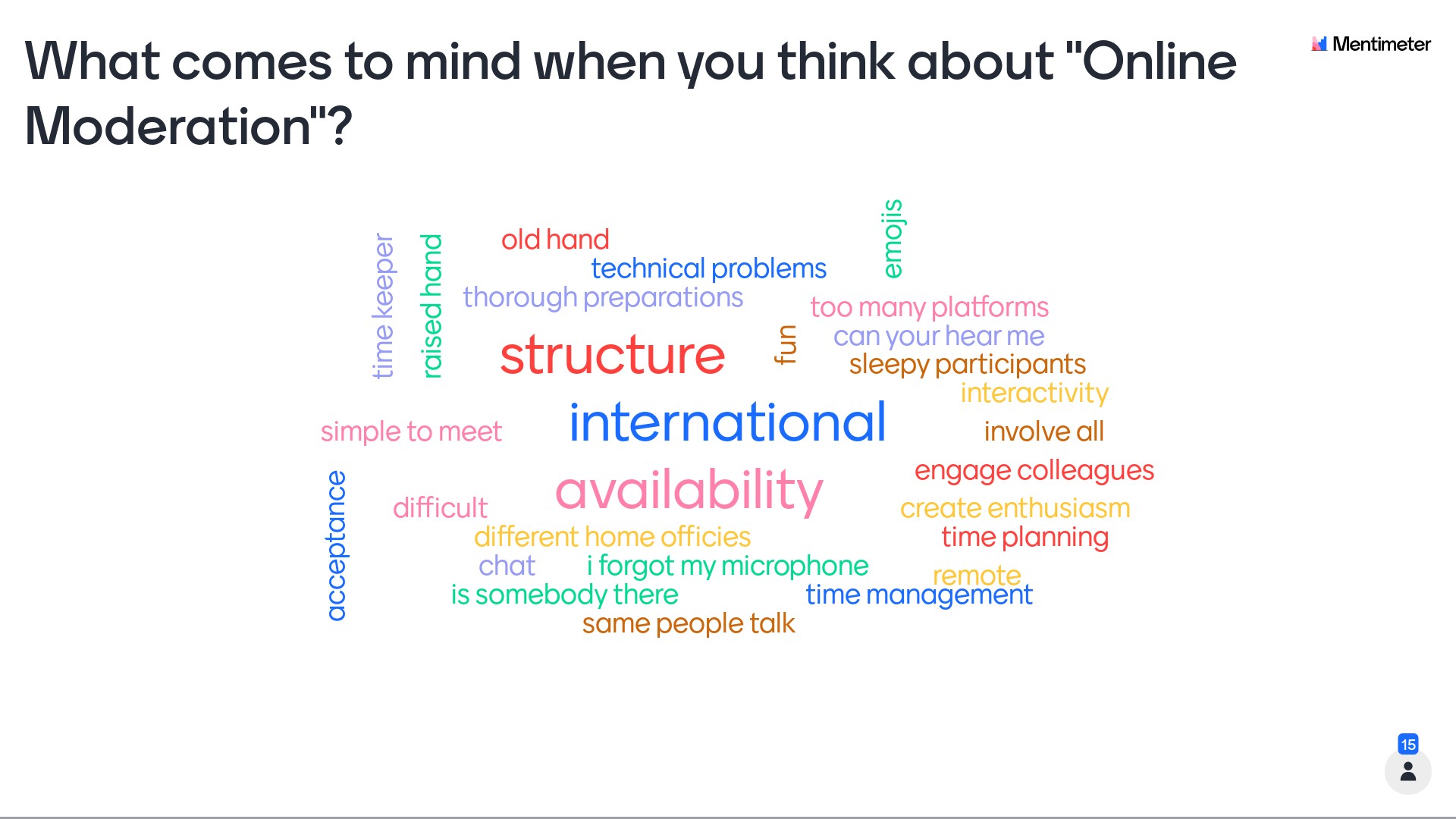 Complete Package #FacilitateForFuture
Sometimes the requirements for an upcoming project meeting are so complex that, despite all the tips & tricks, hiring an external moderator/facilitator is recommended. This is when you should contact us.
We have many years of experience in moderating and facilitating project meetings, we have coordinated numerous projects and participated in projects. This is why you can confidently place moderation into our hands so that you can concentrate fully on the content. With  #FacilitateForFuture we offer a complete package for moderating your virtual project meeting.
As happened e.g. at the end of last year in a virtual project meeting of the EU-sponsored project ProEthics, which was coordinated by the Vienna Zentrum für Soziale Innovation (ZSI). The project coordinators faced a number of big challenges in their upcoming project meeting:
For the first time the Advisory Board took part, and everyone had to get to know each other at the outset,
Feedback needed to be gathered on a core project document without "opening" the fundamental discussion on its structure and content again, and
The work package leaders responsible for the above document had their own special ideas on how the meeting should run.
At the same time, of course, the meeting included a number of "standard" topics such as project management, finances, seeing each other again, status quo of the individual work packages, etc.
Following the first enquiry and commissioning we met with the project team to discuss the planned goals, non-goals, desired results and contents. After that we created – and revised – session plans, thought about the interactive methods and activation exercises that would work best (see our blog article about helpful energizers), included teambuilding elements until, after feedback from the client, a large miro Board and a session plan several pages long were prepared.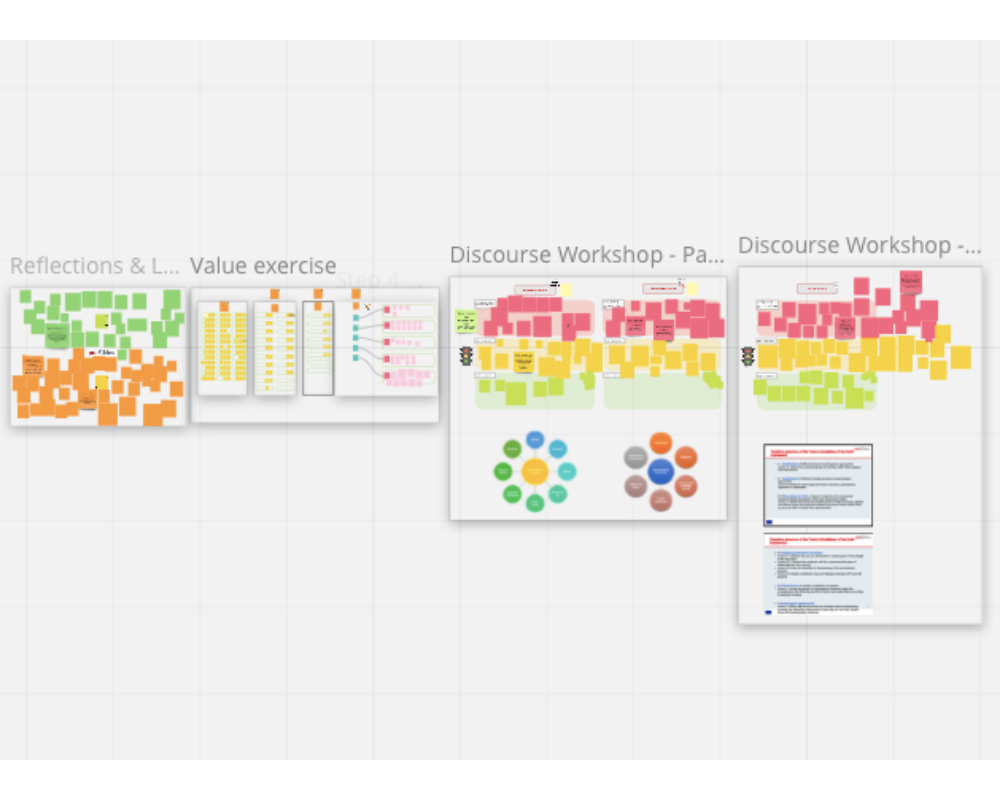 And this was the response by the project coordinator: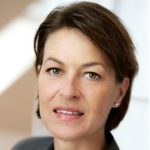 In our large and extremely complex H2020 project, the General Assembly was coming up and we knew that such a meeting with over 40 participants online would be quite a challenge. We asked Birgit and Nicole to facilitate our meeting, because their background, experience and know-how were a perfect fit. It was one of our best decisions: Not only are they wonderful facilitators, they also play any complicated online tool with ease and elegance. And one thing is guaranteed with the two of them: Even online, there is no shortage of fun.
Big, international project meetings can sometimes be monster projects. But with the right tools, a lot of interaction and thorough planning they can really be a lot of fun, too.
Because what we all miss the most at the moment is the "social glue", socializing, "feeling" the togetherness with our colleagues, and once again enjoying a cup of watery coffee together or laughing over a beer in the evening.
We will never completely achieve this virtually, but there are many ways to ensure social interaction takes place online as well as possible. If you need support with this, contact us! We're looking forward to helping you! !!
All the best,
Your BusinessMind team