The 3 biggest mistakes in interactive online meetings
In this blog, we'll be looking at the three biggest mistakes and sources of problems in interactive online meetings.
1. "Camera on!" or – rather not?
Even after almost two years of home office and online meetings, opinions still differ as to whether or not the camera should be turned on during online meetings.
Our experience shows: okay, during webinars or presentations it's not absolutely necessary to have your camera on.
However, when you switch to direct communication – that is, pose a spoken question – work in the break out room or give a presentation, "camera on!" is a MUST. And during group discussions without screenshare it's only polite to turn on your camera when someone is speaking to you.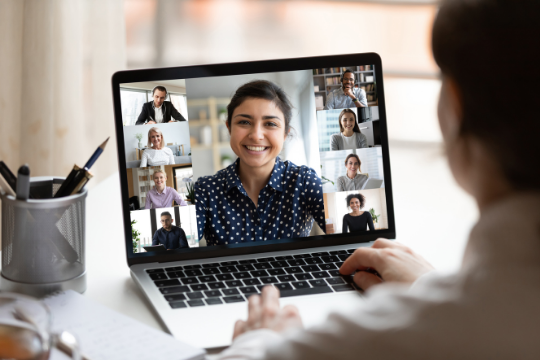 Do you see this differently? Imagine the following situation: if your camera is switched off during a direct conversation, it's as if, in real life, you turn your back on the speaker. Or avoid eye contact, or turn your head away. An absolute no-go!
2. No time for warm-ups or interpersonal exchange
Sure, we're all short of time.
And some of your colleagues are, presumably, staunch interactivity refuseniks. Want to get that (virtual) meeting over with as quickly as possible. And everything that costs additional time is bound to be unpopular.
But our experience shows that if you don't allow for interpersonal time, you're not doing yourself a favour in the long run.
Imagine that you come to a seminar, or a meeting. You bring/get a cup of coffee, chat with the person beside you before it begins, share a joke with a colleague from another department.
This group dynamic phase is extremely important. It establishes the basis for good collaboration in the future.
You don't even need that much time for it. Here are some ideas for quick warm-ups and short team exercises in between:
Emoji Gallery – ask your participants questions that they answer by means of emojis in the "Reaction" function (in ZOOM). For example: "What do you see when you look out the window?", "Which weather emoji best describes how you feel right now?" etc. You can also adjust the questions to the topic of your meeting. This exercise works best in the gallery view.
ZOOM Roulette – you prepare short teambuilding questions that your participants answer, e.g., in pairs in 2min quick breakout sessions. Such questions could be: "What emoji do you use most often?" or "What superhero powers would you like to have?" Here, too, you can adapt the questions to your requirements. In 3-4 short rounds your participants can chat and get to know each other better. It will only cost you 10 minutes, and will draw your participants closer together
3. "It's only a virtual meeting – preparation is overrated! "
Again, we understand you. If only we all had more time.
But here, too experience shows that the better a meeting is prepared, the more smoothly it goes, the better you can react flexibly to adaptations that may become necessary.
It's imperative that you consider the goals and the non-goals, and define the desired results. Allow for enough breaks and more time than you actually need. Avoid virtual monster meetings. Better split it into two appointments, and spice it up with a few energizers for creative instead of passive, lunch-comatose participants.
Preparing your virtual event can be compared with an iceberg. In order for your event (the visible part) to sparkle beautifully in the sunshine, a lot of preparation (the invisible part) is required to keep the iceberg stable in the water.
To prepare, we recommend helpful tools such as Sessionlab, a tool that allows you to divide your event into well-structured blocks. We also find it very helpful to first start with your design as a mindmap or using sticky notes before you put your planned blocks into a cohesive structure.
Do you agree with our experiences with the 3 biggest mistakes in online meetings? What have your experiences been? Feel free to share them with us and post a comment.
Best wishes,
your BusinessMind Team