You want to get away from inefficient and fruitless workshops, in which endless debate and yet no useful result is achieved?
Going to events in which the participants develop smart, creative results with joy?
Are you tired of boring training sessions with passive participants and do you want to actively engage them in a didactically valuable learning process?
You also want to move away from a partly random event preparation to a profound planning that still allows enough flexibility?
Then this book is for you!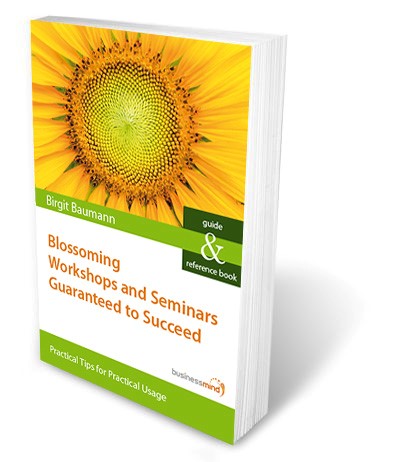 Please fill in the form below. After sending your request, we will contact you as soon as possible and notify you of our bank details or a PayPal payment request.
By sending the order, you automatically agree to the Terms & Conditions & Consumer Information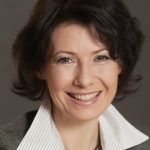 Moderation books are not so much in this world – so what else? … I thought, when I first held this book in my hands. When reading, however, it became clear to me: Birgit Baumann perfectly combines the topics Workshop Moderation and Training Design. In both cases, it is about working with people and the question of how to connect different perspectives in an increasingly complex world and (!) To create something new. This is true for their way of moderating, but also and especially for their kind of training. For it is precisely in a world like this that understanding that knowledge no longer comes from a person, but is always a product of various experiences, is needed. This attitude is still new in the training landscape and therefore I am grateful that Birgit Baumann sets an important signal in this direction with this book.
Great book for all trainers and workshop leaders

If you are looking for practical tips, methods and strategies for holding trainings or workshops, this is the place for you. This book offers a wealth of it. Well explained and richly illustrated. 1: 1 feasible. The author has managed to consider all the essentials and pack them into a compact book. And even after more than 15 years of your training experience, I was able to take one or the other idea with me!
THE book for us trainers and presenters. And finally a book where you can read exactly that and only that what I need for my trainings and workshops. The expert, Birgit Baumann has managed to describe all the important ingredients for a successful workout so that you want to get started right away. In addition, the author explains the current scientific background of neurodidactics. This knowledge explains very vividly and comprehensibly the presented practice. Very valuable are the many practical tips and practicable exercises, always related to the respective phase in training. Although I am not a beginner in this profession, the reading has enriched me a lot and led me into a new self-reflection about my actions. A true treasure trove for both beginners and professionals. Thank you very much for this book, dear Birgit Baumann
Compact and helpfulPractice-oriented tips and tools for beginners and advanced users are offered in large numbers in this book. Whether workshop moderation or training, here everyone will find suitable tools. For those interested in the theory, there are references to the ideas behind them, but they do not need the tools to work.