"Effectively design & carry out online meetings and workshops"
Interactive – Goal-oriented – Tailor-made
After your participation in the BusinessMind Online Academy you will be able to successfully design online meetings and workshops to be goal-oriented, effective and entertaining. Furthermore you will learn the most important functions of the video tool ZOOM and the interactive collaboration tools miro.
Conditions of participation
Some moderation knowledge or experience
Your benefit
You will be able to organize online meetings and workshops with a small group in a goal-oriented and effective way
You will know the most important basics for carrying out online meetings and workshops
You will be familiar with the most important functions of the video tool ZOOM and the interactive collaboration tool miro and will have actively worked with them.
Non-target
Knowledge of ALL functions of the presented tools
Focus on information formats such as webinars and live online trainings, where didactics are the main focus
Content
What do you need to consider in the virtual space during an online meeting moderation? What is different from physical meetings? What is similar?
Netiquette / rules of the game
Try out the "Big 5" methods (including surveys and whiteboard) of the video tool Zoom
Do's & Dont's of online moderation
Online moderation design practice
Experience short, effective online methods for opening, closing and activation
Practice different methods in miro, such as collaboratively working with sticky notes, brainstorming with mindmaps, etc.
Interactive methodology: input and learning by doing (partly in working groups in ZOOM breakout rooms)
Maximum number of participants: 10
Date: Wednesday 27 and Thursday 28, January 2021
Time: From 10.00 am – 12.00 pm (noon) on both days
Your investment: 399 € (incl. 20 % VAT)
Early Bird: Book by November 20, 2020 and get a 25% discount (299 € incl. 20 % VAT)
Want this offer tailor-made for your company? Contact us
Optional individual coaching / training: Contact us for an optional extra coaching to further discuss and design your workshop ideas together.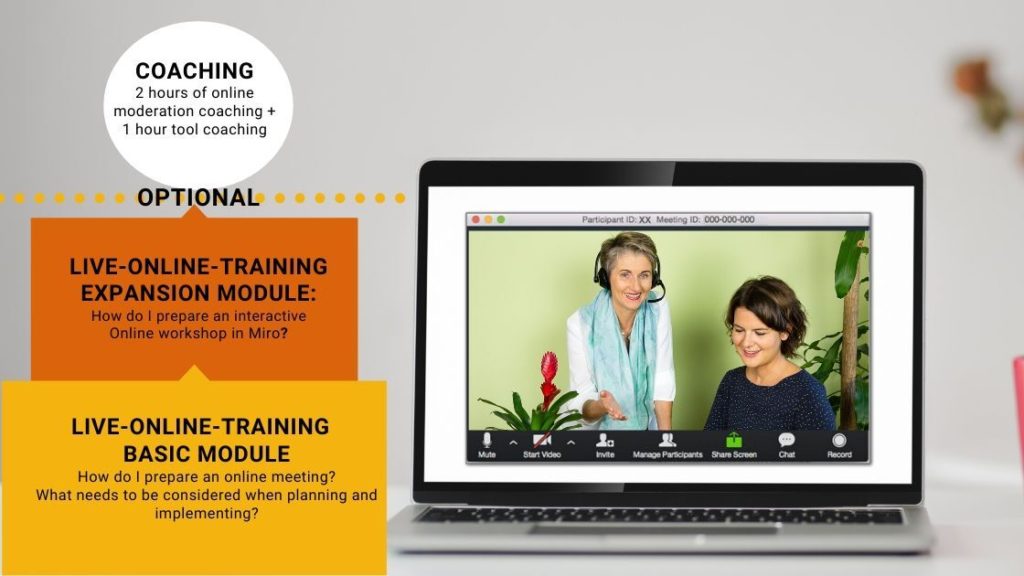 Registration:
General Terms and Conditions Download
Want this offer tailor-made for your company? Contact us