Tips for facilitating (EU) Project Kick-Off Meetings (Example Fish Forward II)
First, a few words from Fish Forward 2 project coordinator Sabine Gisch-Boie (WWF Austria):
"A big thank you to Birgit and Nicole for their artful moderation! Even the preparation phase for the Inception Workshop was magnificent, they both responded to our exact needs and tailored the programme spot-on for the team's requirements.
During the workshop the successful symbiosis between content and team building activities bore fruit and in the open, appreciative and at the same time professional atmosphere, the team spirit and the participants' motivation was clearly palpable.
Successful Inception Workshops are a particularly important milestone for virtual teams – in our case, 80 employees in 17 countries – to secure project progression and project success. All the more important to have an excellent moderator you can trust."
Many thanks for this feedback, dear Sabine, we loved it! It is always a pleasure to work for and with you! And now to the inception workshop (= Kick-Off Meeting) itself: Remember the two blog articles about the "Fish Forward" workshops I moderated? You can read them again here (Inception Workshop) and here (Closure Meeting) to get loads of ideas for creative methods and tips and tricks for moderating large groups.
On Tuesday and Wednesday this week the Inception Meeting of the EU co-financed follow-up project "Fish Forward 2" went ahead as planned, this time I moderated it together with my diligent coworker Nicole Schmidt . As usual, when we are in the ring together, Nicole takes over the "fun part" (and I am stuck with the "serious parts" where I sometimes have to "crack the whip" 🙂 with respect to the time, the part of my job I like the least) including openers, energizers and stuff like that, supports me with photos and making spontaneous changes to my colourful excel lists for the detailed planning. At meetings with so many participants (this time there were more than 50 from 17 different countries) and so many speakers and input givers it can happen that you have to make some spontaneous changes.
Meticulous planning helps you remain flexible in the worst case!
(However, despite all the wonderful support from Nicole, there was still no occasional power nap in it for me. That's something we still need to work on! :-))
The follow up project coordinated by WWF Austria was once again about sustainable fish consumption – above all changing consumer and corporate behaviour, for example by means of targeted, national media campaigns (take a look again here at the award-winning video "Nonoy and the Sea Monster"! It's worth it!). This time, the spotlight was additionally on climate change, gender and the active participation of developing countries such as India, the Philippines, Tunisia and South Africa.
This project is such a joy simply because the content is so interesting and so meaningful. What's more, there are so many wonderful, dedicated, and fun people in the WWF Austria team (as in all the other partner organisations) that these two days again underscored in bold why I love my job so much.
I would particularly like to mention the elaborate preparation by WWF Austria, which was done with great care and attention to details, with more than creative input, and a very charming reception. Besides fish, which not only had the names and photos of the participants on them but the questions to be answered in pairs afterwards, there were also crocheted fish key chains for everyone, made by handicapped people. Who wouldn't have felt welcome and appreciated? And so it served – as in the FF1 Inception Workshop as well – as a Role Model. If I want commitment from the project team, I first have to demonstrate it myself!
Establishing team spirit is often not so easy in such a large group. A lot of time is spent getting there and repeating explanations. We opted to make groups for a constellation based on asking the participants how long they have already been part of the Fish Forward family.
In such large groups (the queue was halfway down the room) it is advisable to use visual anchor points (here, for example, these were "FF1 Inception Meeting", "Mid Term Meeting", "Closure Meeting", etc.) to guide the participants to where they should stand.
Two representatives from WWF Austria, the project coordinator, started us off on the first day with a welcome speech. This was followed by the good old tried-and-tested Opener "Joint Poster", during which small groups of 6-7 people visualised, for example, what they had in common, discussed their wishes for the project and then put it all down on flipcharts. It goes without saying that the goals of the inception workshop (the "Big Project Picture" always being the most important thing) and the programme were placed firmly and visibly in the room, along with the major project topics and structures:
Here you can also see that different methods can be combined well, and that a method can have a double effect (we were able to see who was an "oldie" and who was a "newbie" and at the same time form groups.)
To form the groups we simply counted from 1-8, and soon had our 8 groups for the poster exercise put together.
But beware! If Group 1 doesn't know where Group 1 meets and if you send Group 2 and 3 in the way, some more precious minutes could get wasted.
We continued with a few short content-related inputs which the participants discussed at the tables for 5 minutes in "whisper groups" and were able to take down their questions on differently coloured little cards. I called these "digestion rounds" and find that this approach is better than the classic "Q & A rounds" because absolutely everyone can contribute, not only the "loudest" (and usually always the same people :-). The question cards were then collected on pinboards and answered by the respective experts after the break.
But first we did the values exercise, greatly prized by me. This time the question was "What is important to you for a good FF2 cooperation, to be able to bring the project to a successful conclusion?" First, everyone wrote down 3 of their basic values individually on 3 cards. Then, working in pairs, they shared and discussed their values and agreed on 3 values they have in common. Theoretically, this could go on forever.
We stopped at groups with 16 people. And we actually succeeded in agreeing on 9 values with 3 x 16 people (in the following only 3 examples.) With smaller groups the goal would be to agree on 3 values.
If there is still time, I recommend adding another step, namely formulating the "implementation requirements": small groups are each assigned one value (or choose one) and discuss (and make notes on the flipchart) the criteria required to work together to actually implement these values.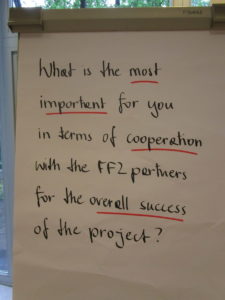 A great team development method that I can really warmly recommend.
Sabine Gisch-Boie, project coordinator, WWF Austria: "A marvelous thing! I'm going to suggest introducing the value exercise in all WWF projects."
The first day closed with presentations given by representatives from the developing countries, and a discussion in the Fish Bowl setting to address open questions.
On day 2 we started with "Diversity Bingo." Every participant is given an A4 sheet with 25 squares, each of which contains a defining feature such as "A person who is left-handed," "A person who speaks more than 3 languages," etc. As in "normal" bingo, the aim is to get 5 squares in a row (horizontally, vertically, or diagonally) as quickly as possible. Obviously there was a prize to be won, which was EXTRA motivation for everyone to get to their BINGO fast!
Then followed a long session about the planned marketing campaign, this time discussed in country groups (before that we had very colourfully mixed groups so that as many participants as possible could get to know each other), another constellation about fish consumption behaviour in the different countries and a further discussion in small groups about suggestions for improving the campaign.
We dared use an Energizer that is usually eyed critically at the first moment but ALWAYS turns into a highlight. I like to call it the "Bondage Exercise."
It involves tying two people up together, who must then attempt to free themselves. Naturally, without cutting the rope, biting through it, or untying a knot. Obviously there is a solution but it is not always easy to spot at first glance, and until the first pair manage to untwine themselves, many glorious, unbelievably funny "human knots" are formed. This exercise is not only really fun, it also carries an important message: there is always a solution, even if it is not always obvious!
After two more input sessions about policy and company cooperation – completed in a superbly creative way – "Body Sculptures" concluded the workshop, as it did the first Project Inception Workshop. This time, we asked the participants to express the values they had derived together in a body sculpture. There were many creative results, from values such as "commitment," "team spirit" or "result orientation."
By the way, all of these exercises involving physical participation are not just to amuse your participants or to activate them, they serve a neuroscientific purpose, i.e. the input that was previously absorbed by the visual and auditory senses now takes root in the entire body on another level!
At the end there were presents, many hugs and a fabulous team spirit was carried out into the world of sustainable fish consumption from the Springerschlössl in Vienna.
By the way – and as already mentioned in the last two articles – please don't copy and imitate the presented methods 1:1, because methods follow the goals (and not the other way around!) The target group must also always be kept in mind, and its size. Not every method is suitable for every group size.
What have you experienced in EU project meetings? Share your learnings and strategies with us below!
Best wishes, Birgit
PS: Oh, and – buy sustainable fish! https://fischratgeber.wwf.at/
PPS: If you'd like to find out more about moderating and methods, you will also find plenty of gems in my book"Blossoming Workshops and Seminars Guaranteed to Succeed"! Or you can take part in my summer academy "Workshop Moderation Training" on 5/6 July, and / or"Moderating Large Groups Training" on 9/10 July (in German language)!